Sunday, November 29, 2009
Carter is my husband's cousin's little boy...I also photographed their wedding a few years ago! He is so adorable and has the fattest chubby cheeks! We had to try twice to take his pictures because all he did the first day was cry! But we realized the second day that he just hates leaves...so we stopped trying to sit him in them and he was much happier! :)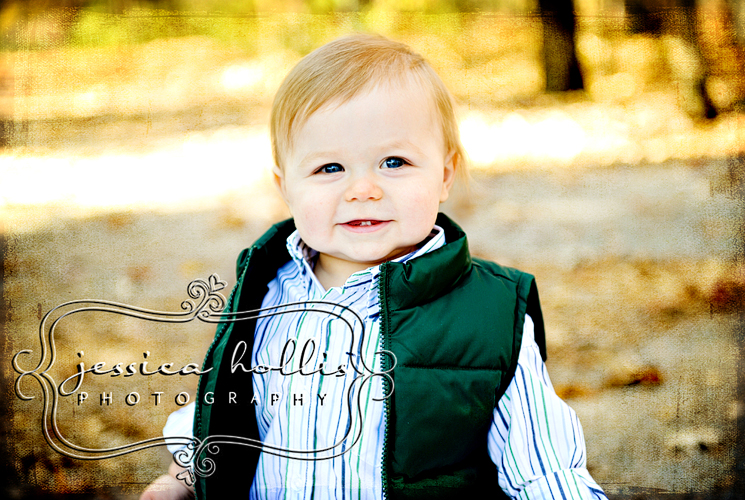 Cake smash...oh yeah!
I'm not sure I have ever had a baby enjoy their cake as much as Carter did! He seriously almost ate the whole thing!!
"Hey Mom, I cleaned my plate!"
Thanks for bringing Carter for his one year pics, he did so good!
Posted by

Jessica
at 5:27 PM
1 comment:
Links to this post

There aren't a lot of families with 6 kids in it nowadays...mine seems to be the exception! (For those of you who might not know, I am the oldest of six kids) But this family also has six, and it was fun to get to hang out with them and figure out ways to get everyone looking at the same time! :)
Love this...look at those sweet little faces!
My personal favorite: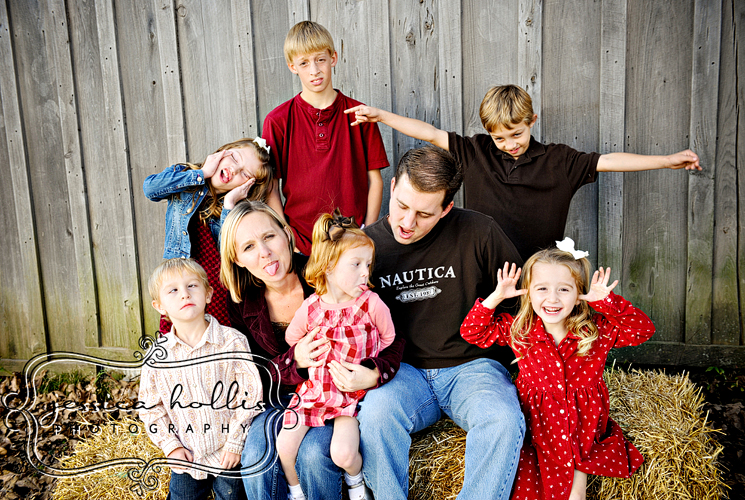 Thanks for having me out to your home and for a fun session! And thanks to Dad for catching me before I fell in the pond! LOL
Posted by

Jessica
at 5:19 PM
No comments:
Links to this post

Wednesday, November 25, 2009
Kyle's mom warned me before we met up that he wasn't too into the idea of having his senior pictures taken. But I thought Kyle did great!
Kyle is a pitcher...
Thanks Kyle for doing such a fantastic job and pretending to have a good time with your pictures! :)
Posted by

Jessica
at 4:37 PM
No comments:
Links to this post

Olivia was so silly & fun to photograph. I basically chased her around while she played in the leaves! She is too cute!
Great session, Olivia! I can't type your name without the theme song from the Olivia cartoon playing through my head! :)
Posted by

Jessica
at 1:57 PM
No comments:
Links to this post

Christmas is getting close! I just realized I hadn't posted the rest of the Christmas Card Choices, so here they are! I am also adding a link at the
top right
so you can see all of the choices together!
Here's the information again about the cards:
If you've booked a session with me during 2009 & are interested in Christmas cards or are having a Holiday Mini-Session for this very purpose, here are the details!
I am offering something new this year. Press-printed cards with a linen finish…really pretty and not your average Christmas card! The cards are 5×7 or 5x5 in size. They are printed on the front and back…similar to a postcard. These are shown with both the front and backs.We can put a photo on the back too if you like!
The press printed cards must be ordered in packs of 25, and the pricing is $45 for the first set, and $40 for each additional set. Envelopes are included with the cards as well. If you want exclusive rights to a particular card this year, it is an additional $50, but no one else will be able to have the same card as you!
If you would just like a print (like a photo) for your cards instead of the more upscale press printed cards, we can do that too, it will be $35 for a set of 25 and $30 for each additional set. (These will not include the back.)

All cards need to be ordered by December 15th to make sure you have plenty of time to get them in the mail to your friends and family!
Contact me at info@jessicahollisphotography or call 618.625.6787 to place your order!
Posted by

Jessica
at 11:04 AM
No comments:
Links to this post