Okay, I don't know how I'm ever going to get caught up on my blog posts!! I am very very behind on posting, which isn't like me at all! Usually the second I finish up a session or a wedding I blog about it...but things have been
extra
crazy lately! I stopped blogging mid-December because I needed to finish the work in time for everyone's deadline's worse than I needed to blog, but now I am seriously behind!! We are in the middle of remodeling the studio, which is taking longer than expected, especially now that all my flooring is on back order, so who knows how long that's gonna take! We are also in the process of buying a new home, the closing is later today actually, and we are moving later in the week! So I'm just a little bit busy...just a little....!
I do have one post ready to go, so here we go...Brandy & Louie's beautiful wedding!
They were such a fun couple to photograph, I'm sure a lot of you remember their engagement session that included a mudfight!! Click
HERE
to see that if you missed it! :)
It was a very pretty day for their wedding, just a little chilly!
Detailing on her dress:
Louie was a very happy and fun groom! :)
A shot of me working, taken by Alisa, my assistant...
The ceremony:
This was right after the kiss...I love their happy smiles!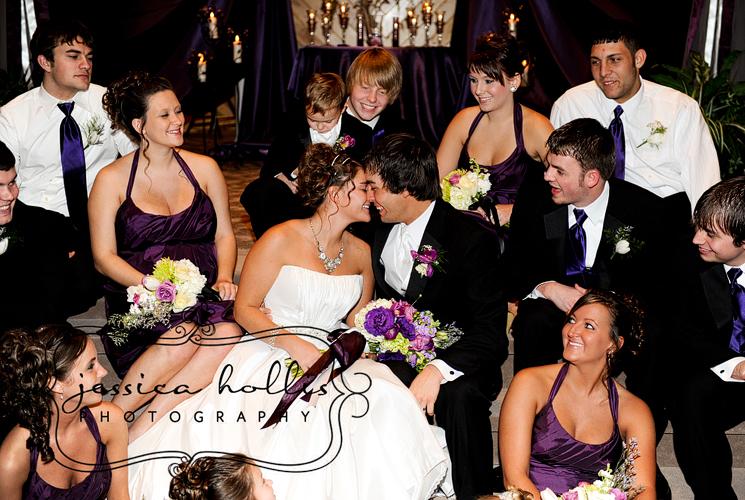 The wedding party sportin' the shades...
Had to post this because I think it's the only smile I got out of the ringbearer all day!!
This is the bride and groom stretching out their smiles!
Thought this was cute:
The Reception:
>
Thanks Brandy & Louie for choosing me for your wedding! It's always fun to get to photograph weddings of people that I know, and I think I have known Brandy since she was in 7th grade or so! Congratulations guys!! Your day was just beautiful!
Well, I'm off to chase some kids and pack some boxes! If anyone is trying to get a hold of me, please leave a message or email me and I will do my best to get back with you during this crazy time of moving! Thanks for your patience! :)